Here are the services you can add to each package:
Second Sound System
Civil Ceremony
Religious Ceremony
Let's Dance
Musician
Wedding Show
---
*** SECOND SOUND SYSTEM​ ***
Enjoy the convenience of two audio systems to have multiple ready stations without visible movements.
PRICE: € 100.00
(FREE if confirmed within one month of the quote!)
---
*** CIVIL CEREMONY ***
​
Do you want your ceremony to be more than just a quick legal declaration? Don't let bureaucracy take over such an important moment; let music create the right atmosphere. Don't miss out on a background that highlights the most significant moments: from the groom's arrival to the bride's entrance, the signing of documents and any vows, the official declaration, and the exit…
​
PLEASE NOTE
For logistical reasons, we only provide the Civil Ceremony service when the ceremony and reception locations are the same.
PRICE: € 100.00
---
*** RELIGIOUS CEREMONY ***
​
The classic musical accompaniment for your church ceremony.
​
PLEASE NOTE
For logistical reasons, we only provide the Religious Ceremony service when the church is within 30 km of the location.
PRICE: € 200.00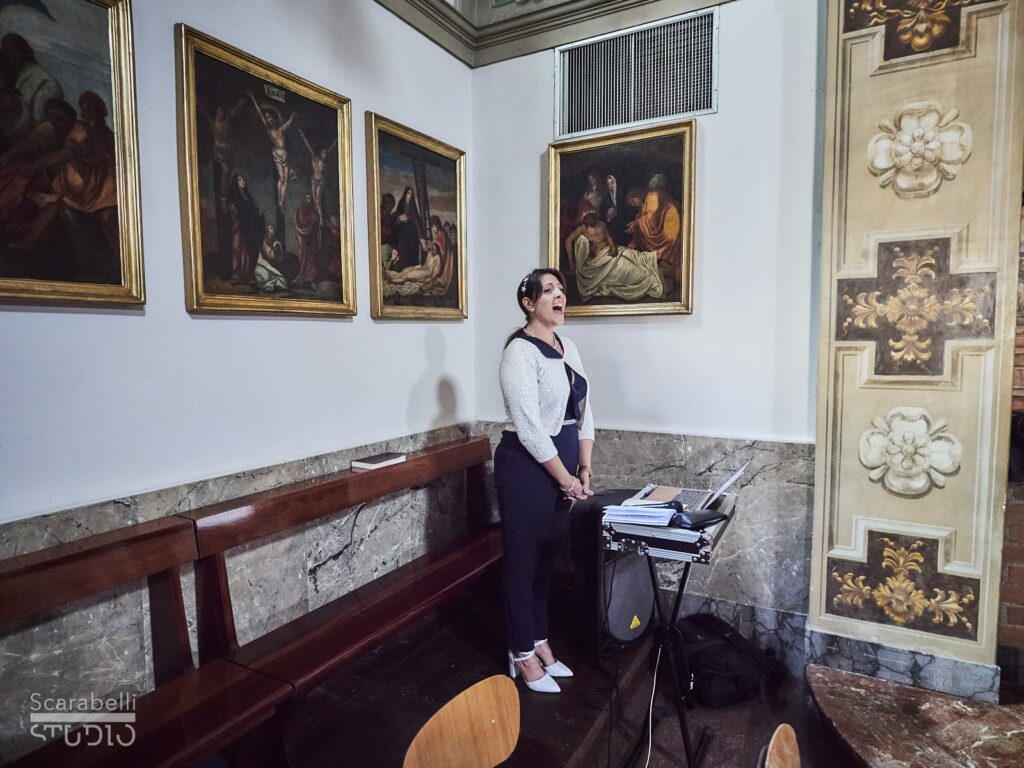 ---
*** LET'S DANCE​ ***
Imagine surprising everyone with a romantic and lively dance, perhaps to the tune of Dirty Dancing, instead of the traditional slow dance. Or something more fun and energetic, like Grease. Or an elegant waltz.
The Let's Dance service includes choreography for a couple or a group (involving witnesses or other guests). The service includes an afternoon of rehearsals at your home, during which a video will be made for you to review the steps and practice in the following days.
PRICE: € 300.00
"We chose the 'Let's Dance' service, and despite the challenge of my unexpectedly cumbersome dress, we wanted to skip the dance. But Valentina gave us strength and courage; where we were afraid, she showed us the light in a moment of darkness… It was beautiful!"
(Tania and Alessio)
---
*** MUSICISTA ***
​
Live music truly makes a difference, but if you want the utmost elegance, two voices are not enough. That's why we collaborate with professional musicians who can accompany us during your reception, creating an even more evocative atmosphere.
The combinations we recommend most are:
Duo + Pianist
Duo + Saxophonist
Duo + Band
PRICE: Starting from € 300.00
---
*** WEDDING SHOW ***
If your reception is long or has a particular theme, why not enrich the entertainment? Based on our artistic background, we have created unique mini-shows characterized by costumes or accessories, choreography or stage movements, to fill the gaps and keep your guests entertained.
The convenience of these shows is that they are divided into several segments to be distributed throughout the courses.
PRICE: The WEDDING SHOW service is included in the DELUXE package.
Here are our WEDDING SHOWS:
DISNEY SHOW
A colorful journey through the greatest Disney classics, accompanied by princesses, princes, and delightful characters from the most beautiful fantasy world ever!
Suitable for a young to middle-aged audience, with children and Disney enthusiasts.
"The 'Disney Show' was fantastic for both adults and children, as we chose it to match the fairy tale theme of our wedding. I can't find words to describe how perfectly everything fit together, far beyond my expectations. Even now, thinking about it makes me cry."
(Tania and Alessio)
***
"The Disney Show was truly exceptional and unique, creating a fairytale atmosphere that all our guests truly appreciated, and we are still receiving compliments for it."
(Laura and Nico)
NIGHTS ON BROADWAY
A sung and danced journey through the greatest Broadway and West End musical hits. Fun, passion, sensuality, and boundless energy in a show that will leave you breathless!
Suitable for theater and musical enthusiasts.
"We also chose the 'Broadway and Disney Show,' a musical medley from the '70s, '80s, and '90s performed before the cake cutting after the sorbet, and it was one of the most beautiful moments of the evening, involving guests of all generations in dancing. They went from Grease to Footloose and Dirty Dancing: it was a fantastic show, and Daniel and Valentina were the stars of the night."
(Nicoletta and Silvano)
"We chose to add the Broadway and Disney show. They were fantastic, and we received many compliments! Even two of our friends who got married a month later decided to add the shows as well!"
(Laura and Angelo)
HOLLYWOOD MON AMOUR
Let yourself be carried away by the emotions of the most beautiful and famous movie soundtracks, from the golden age masterpieces to the latest great hits.
The vocal performance will be enriched by the choreography of a talented dancer.
Suitable for movie enthusiasts.
LITTLE ITALY
"Little Italy" is a medley of the most famous Neapolitan classics, sung by the duo and accompanied live with the guitar. It's the perfect way for the newlyweds to pay tribute to their origins and those of their families.
The beauty of this service is that it involves everyone present: Neapolitans and non-Napoletans, friends and relatives, young and old… Everyone!
If you're from South Italy, you know how people get carried away singing about their land!!!
"They fulfilled all our requests and even took the effort to learn to sing in Neapolitan. They deserve top marks for this great service."
(Letizia and Mattia)
---
Have you found the service that suits you?
Do you want to know the perfect combination for your wedding and/or get a specific quote?