Are you looking for artists to whom you give the responsibility of your soundtrack for the most important day of your life?
When you have hundreds of professionals in front of you and you have to choose which one of them will take care of the musical entertainment of your reception, it is normal to feel confused…..
I'll shed some light, so you can do a quick first glance, without wasting too much time. It is therefore important that in front of each artist you ask yourself the following questions:
Is it in line with the style that you want for your wedding?
Do you want an elegant and romantic wedding? Or do you prefer a super lively celebration? Or an event outside of any scheme and with a great personality?
Does the artist have a beautiful voice? Can the artist sing/play well?
This should not be taken for granted, because it is not like that. You will find many super elegantly dressed singers, who as soon as they open their mouths, they seem to have come from a karaoke bar!
But above all … are they wedding professionals?
Because the dynamics of a wedding are complex to manage and go beyond a simple musical performance … many professional artists don't know this, being used to doing mostly shows or concerts and only a couple of weddings a year.
If the singer you are considering has all three of these characteristics, then you can begin looking into his/her services,  strengths, his/her way of working etc … perhaps with a appointment or video call.
Could we be your best choice? You will only know after reading this page to the end and discovering everything we have in store for you!
We will reveal a secret right away: during your wedding you will hardly notice anything.
The wedding couple are prey to emotions, they are continually the center of attention. Everyone seeks their attention: the photographer for photos, the guests for greetings and congratulations, etc …
In short, enjoying the big day can be more difficult than it seems.
For this reason
our first goal is to take care of any possible concerns you may have!
There shouldn't be any problems: but if there are some unforeseen circumstances  (delays, bad weather, etc …), our task is to hide them or when this is not possible, minimize them or even transform them into advantages.
This is what we mean when we talk about "a perfect wedding". Because let's face it, there is no perfect wedding, but only a perfect experience as such! And if this happens it is thanks to the staff (suppliers) who do everything to make this happen and the trust that the wedding couple give them.
And this happens when all suppliers collaborate and team up: this is why it is very important for us to get to know and work in harmony with other professionals during the reception, exchanging suggestions and information, so that each one helps the other.
But a wedding is not just a matter of ONE day and you will soon find out (if you haven't already!)
Infact
the whole period before the wedding is equally important!
These months are as exciting as they are stressful! It is a journey during which you will need people to accompany you. Not from suppliers who, once the contract is signed, you will not hear from until the wedding day and whom you cannot count on for any problems.
This is why it is important for us to be there immediately:
we will read the contract together, explaining it all to you and answer all of your questions;
we will give you all the advice we have gained during our experience and, if you wish, also our opinion on the general organization of the day;
we'll create your own personal playlist together (don't worry we'll do the hard work, but we'll need to get to know you and find out what you like best);
we will assist you in applying for the SIAE permit by guiding you step by step, by telephone, along the online process, in order to avoid mistakes;
we will do a general check of the wedding to define the structure of the day together with you (and any wedding planner), and be fully aware of what is to happen on the day;
we will take care of contacting any other suppliers of your team, if we feel the need to;
And what about COVID?
We're optimistic about the upcoming wedding season, but we realize that nothing is certain until it happens.
A very difficult period, not only for us wedding professionals, but also for all couples like you who have waited so long for this moment.
Frustration and fear is normal during this time.
But what we can promise you is that this Virus will not prevent us:
In helping you in case the date is cancelled, by blocking your deposit and reorganizing a second date together
to help you with any doubts or organizational perplexities resulting from this period
to be there and not disappear completely and then reappear only when the emergency is over
to seriously carry on with our work
to always find the positive side, the right word, which will help us to overcome this moment
if the wedding is to take place, but with some limitations, to still achieve our goal: to make your day unforgettable!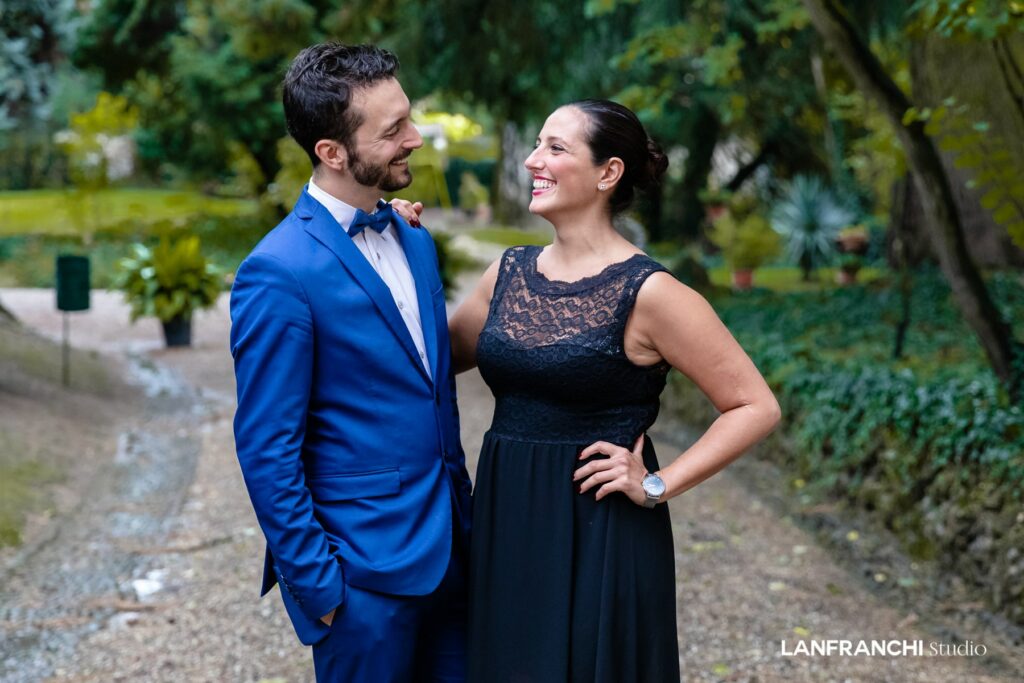 What will happen if you choose the wrong singers?
With a vast majority of professionals to choose from, you can easily forget everything that we offer (what we said and what we still have to say).
But other than that, you could also risk getting even worse. The wedding industry is full of impromptu suppliers:
We know people with a beautiful voice, even friends, who are not the least bit capable of managing a wedding. Professionals? Yes, but not of the wedding industry. Choosing them would mean having a fantastic concert for a cocktail party. But at the same time an inadequate organization of entertainment.
Other musicians have done hundreds of weddings, but they do it with sad automatic and hair-raising energy and they carry around 30-year-old equipment that it's a miracle they still work.
There are extravagant agencies, which however fail – obviously – to guarantee a minimum level of intimacy and personalization and send you people you have never met or have only seen in photos or videos on their website.
There are suppliers who don't care much about their look and go dressed to weddings as if they were going grocery shopping. The problem is that elegance is also transferred by your demeanour, in the way of working, in speaking with guests and other suppliers, etc…
Having said that, we don't want to say that we are the only wedding professionals, on the contrary: we know several wedding professionals of high quality. The problem is that they aren't many and – rightly so – they work a lot like us. So while you are reading these words they may (and we may!) have already occupied your date, because we are usually among the first to be chosen.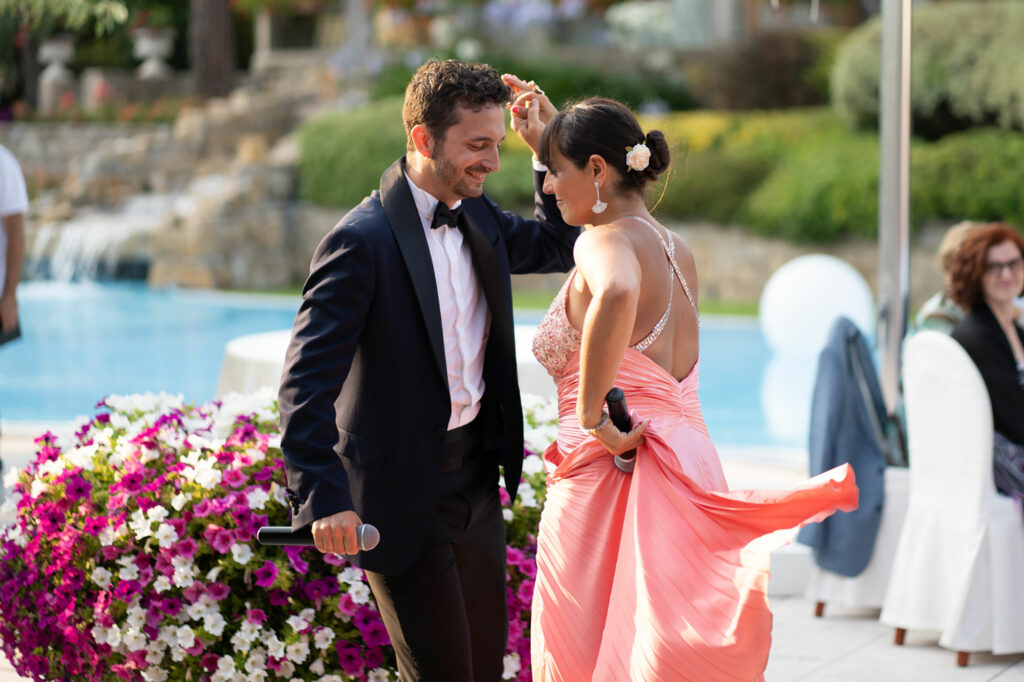 What will happen instead if you choose us?
In addition to what has already been said (great elegance, impeccable care, REAL personalization of service, attentive general and bureaucratic assistance) here are some other great advantages you will have:
We speak a total of 5 languages (Italian, English, Spanish, French and German), therefore also ideal for international entertainment.
We both come from the theatre, in particular from musicals, so we have a stage presence and a way of presenting and entertaining that is strong, which allows us to involve your guests with great class.
Coming from the theater we have chosen to create special services for the more demanding: but you can read more about this further on.
The passion for dance (both Latin American and "classic disco") has led us not only to know how to dance: Daniel also has experience as a DJ for events.
Obviously all these aspects are in line with our greatest mission:
To make your wedding​ an elegant and romantic dream, making you shine in front of all your guests!
And once you confirm us for your wedding?
After confirmation and payment of a deposit, we will make an appointment together in order to get to know each other better, to learn more about you and your story.
By the day of the wedding, we would like to know you better, both because we don't want to sing to "perfect strangers", and because knowing something more about you would allow us to be even more in harmony with your tastes.
Always after confirming us, we will send you:
a file with our basic repertoire, in order to contribute to the musical customization of the wedding by selecting or adding your favorite artists and songs.
our advice in ebook format, regarding all the topics and situations that concern us or in part concern us (from Siae, to the choice of music for special moments and many other tips on general organization).
About a month before the wedding we will meet to talk more about your musical preferences and about the entertainment and we will take note of the choice of songs, especially for the special moments.
Finally, a couple of weeks before the wedding, we will do a complete and decisive check of the whole wedding (times, locations, contact persons, transfers to locations, special moments, etc…).
CAUTION
Our services are not for everyone. The Power of Love is your choice if:
You believe that music is of fundamental importance for the success of your wedding and not just a simple filler in.
You dream of an elegant and romantic wedding, as far from a tourist village atmosphere as possible.
You want your guests to be wowed by the quality of the entertainment.
You want YOUR wedding, which fully reflects you, different from that of your friends, where every detail can make the difference.
If the above is what you want, we can't wait to meet you and to be part of your dream!
Lastly, before looking into our packages, it is important that you also get to know us through the words of some of the couples that we have already made happy (you will find all reviews in the dedicated section).
Cristina and Marco
We are pleasantly satisfied with this magnificent duo.
Ours was a simple wedding (with just over 50 guests) but we still wanted to give a touch of class and professionalism to the event. Well, thanks to Daniel and Valentina we found them very helpful right from the beginning, from the organization of the important moments of the day, up to the choice of the playlist. Music has a fundamental role according to our point of view, not only as accompanying music but also as a "definition" of what the details and noteworthy situations were during the wedding.
The Power of Love is exactly the icing on the cake that made our wedding unforgettable! Our guests were ecstatic by the professionalism but also by the pleasant and spontaneous character of these two guys. Everything was excellent: from the ceremony to the final party, in short, a really great choice!
Highly recommended to all those who wish to have professional singers at their wedding and not the usual and boring "piano bars"!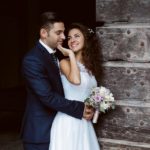 Tania and Alessio
In some cases like this it is very difficult to be short and precise and at the same time be able to find the right words to describe a unique experience like the one we had thanks to Daniel and Valentina.
I came across their names by chance on this site, sometimes a bit of luck can happen to even the most skeptical who eventually have to change their mind.
We had the honour of having Daniel and Valentina at our wedding and of discovering the existence of two true artists, professional, outstanding, serious, punctual, impeccable, but above all kind, delicate, and down to earth.
Two dreamers who, with their dreams, managed to make a dream come true not only for us, but for all those present who were literally captivated, having never seen anything like it or so perfectly brilliant.
Family and friends thank us again for making them live a dream and defining the evening as one of the most beautiful nights of their lives and this above all thanks to them.
Calling them artists is an understatement, because they didn't limit themselves to making music, they did much much more than this, they were themselves with their way of performing and being in sync with each other, they are the soundtrack of our wedding.
We adhered to the "Let's Dance" theme and after so many efforts due to my unexpectedly bulky dress we wanted to give up dancing, but Valentina gave us the strength and courage, where we were afraid, she showed us the light in a moment of darkness… It was beautiful!
The "Disney Show" for adults and children was wonderful and we had chosen it because the theme of our wedding was, A Fairytale, nailed it!
I have no words to describe how everything fit together so perfectly, far above my expectations, I still cry when I think about it.
Trust them and let them advise you! Not singers, not actors, not artists, but Geniuses!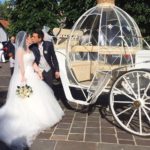 Camilla and Carlo
Love in music.
We chose The Power Of Love after seeing Valentina and Daniel perform on a summer evening. That one time was enough for us to convince ourselves we wanted them at our wedding. The entertainment we were looking for was classic and romantic for the starters and dinner part, while we wanted it bright and festive for the second part of the evening. Valentina and Daniel translated our request into music, following our playlist perfectly and giving us a few more ideas, always perfectly fitting.
The music, during our reception, had a principal role because it was the soundtrack of our dream and it really was! At every moment I heard the music we wanted and how we wanted it.
Valentina and Daniel were also able to be enterprising and resolvers in a moment of delay, which risked going on for too long, but as true professionals they promptly intervened. All our guests were blown away by their entertainment: everyone, from the first person to the last, asked me where we had found them and how perfect the music was from start to finish.
The Power Of Love exceeded our expectations, beyond their skill throughout the event, they were always by our side in the moments that preceded the wedding, always meeting our requests with great availability. What's there to say? To anyone who wants a classy reception where music is the protagonist, never intrusive, I recommend them 100%. I also hope to be able to organize other events in which I can involve them because it is a pleasure to hear and experience them! Thanks for having been there!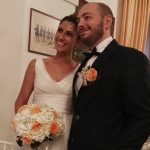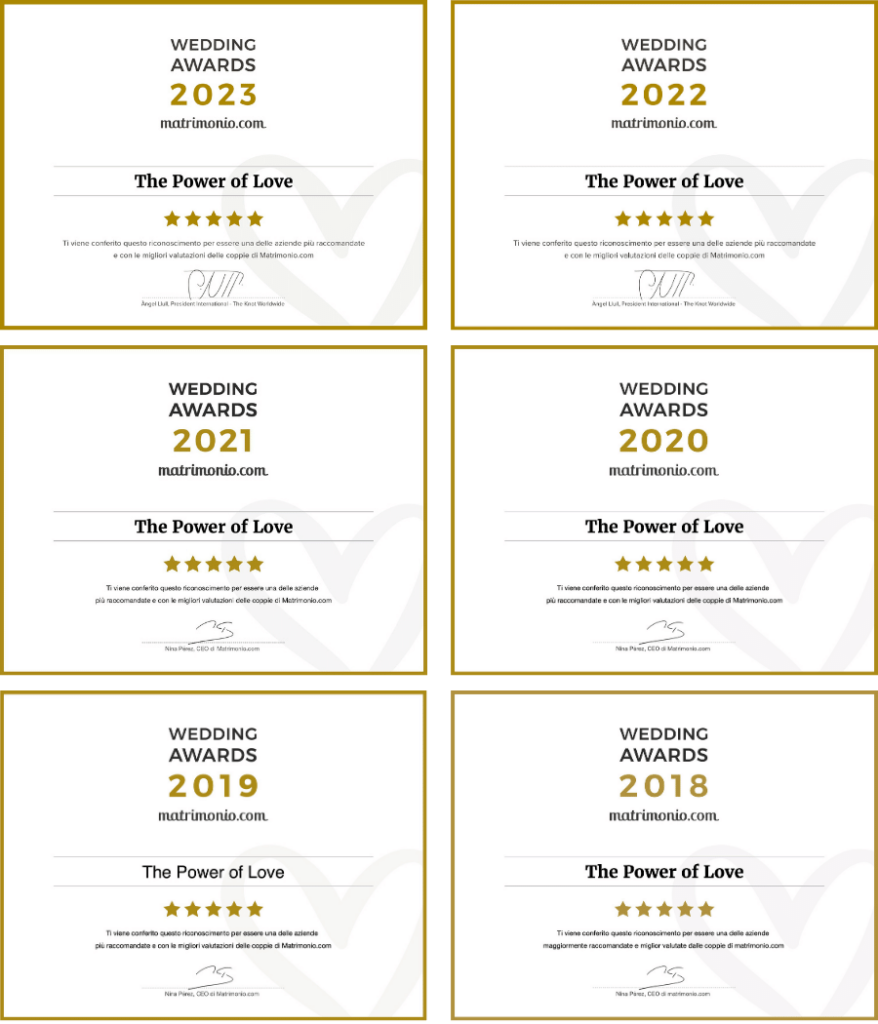 But let's get to our packages...
BASE PACKAGE
Aperitif entirely sung live
During the aperitif is definitely the best time to sing live, when the guests have just arrived and are full of energy, curiosity and expectation. There is nothing equal to the impact of live music and we recommend a Swing concert, which everyone likes because it is an evergreen type that brings everyone together: your older family and friends will listen with joy to the old hits of Frank Sinatra, Ella Fitzgerald , Luis Armstrong, and Aretha Franklyn while the younger guests  will appreciate them in a more modern  arrangement  by Micheal Bublé, Lady Gaga, Robbie Williams...
As an alternative to the Swing concert, for those who don't like this type of music, we recommend a Pop concert.
Background playlist during lunch / dinner, mixed with live singing.
Meal time is when your guests will be sitting at the table, chatting and not having the same freedom of movement as they do during the aperitif. For this reason we strongly suggest a background playlist, at a low volume. We recommend alternating live moments with the playlist, in particular between one course and another, so as not to let the energy  drop (or fatigue to step in), and involve your guests with the best current Pop/Rock hits and hits of all time.
The choice of pieces, both those in the playlist and those live, will firstly be chosen according to your taste, in order to make the soundtrack of that day truly personalized.
Bureaucratic assistance for the SIAE permit
We always prefer to help the bride and groom do it, because there are some steps that could get confusing. A couple of weeks before the wedding we will be in contact and we can do the online process, step by step, over the phone.
Transport to the place of your reception
We are based in Milan, so for all locations within a radius of about 100 km, transport is included. For areas further away a surcharge will be applied,  which will be calculated in advance on the ViaMichelin website.
Availability from the aperitif to the cutting of the cake
We will arrive before the guests so that we can prepare and assemble the equipment, and to be ready for when the guests arrive.
We will be available until the cutting of the cake, after which we will allow space for any DJ you may have contacted...
...unless you choose the...
SPECIAL PACKAGE
In addition to what is included already in the Base Package, the Special Package includes:
A live mixed DJ-Set
Daniel will work the console for an overwhelming Dj-Set: the party continues, above all (but not only) for the young people and the newlyweds themselves, who will finally indulge in the celebrations and the fun!
A whole day with no time limits and no extra costs exclusive
Unlike the Base Package, we will reserve the whole day for you, so as to not have a maximum time limit, but above all no extra expenses, we will be there until the last guest stops dancing (or until the location itself kicks us out!).
It is in fact the most complete package, the one that most couples choose.
If, on the other hand, you want something truly exclusive, choose the...
DELUXE PACKAGE
In addition to everything already present in the Special Package, you can add "The Wedding Show", a themed show, characterized by costumes, accessories and/or choreography, with the choice of:
- Hollywood Mon Amour (A show of  the greatest cinematic soundtracks, in perfect "Oscar awards" style)
- Disney Show (A mini-show full of colour and costumes with our favorite Disney characters)
- A Night on Broadway (The most famous musicals directly at your wedding)
- Songmania (The funniest comical and musical moments of Italian TV from the 60s and 70s)
- Little Italy (A moment that will make your guests relive the typical atmosphere of Southern Italy, played entirely live with acoustic guitar)
For more information about our wedding shows, CLICK HERE
---
How much is all this worth?
BASE PACKAGE
Classy musical entertainment with professional equipment, plus personalized artistic and bureaucratic assistance, plus the cost of transport and travelling time, assembling and disassembling, for a total cost of € 1200.00
BUT…
Given that it is essential for us to organize ourselves well in advance, if you confirm our service within thirty days, we will apply a 15% DISCOUNT and you can therefore secure the BASIC package for only
€ 1000.00
That's a saving of € 200.00!

Also if you confirm within a month, we will include a second music station.
If you don't want your party to end at the cutting of the cake...
SPECIAL PACKAGE
Everything already present in the Base Package
Live and Dj-set mix for the end of the evening
Exclusive for the whole day with no time limits and no extra costs
The SPECIAL package is on offer
with an incredible 25% discount, therefore the price is € 1200.00 instead of € 1600.00
You got it right, it means you're saving € 400.00,
which you could, for example, use it to pay for the SIAE!
​However, if you want something truly exclusive...
DELUXE PACKAGE
Everything already present in the Special Package
Wedding Show: a themed show with costumes, accessories and choreography
And taking advantage of the 25% discount,
the price of the DELUXE package drops from € 2000.00 to only € 1500.00
that's a saving of € 500.00!
​
Still haven't found what you are looking for in our packages?
Add one or more of our Extra Services!
EXTRA SERVICES
Second Music Station. The presence of two systems allows you to have more stations for your musicians and avoids moving around on sight. € 100.00 (FREE if you confirm within one month of the quote)
Civil Ceremony. Soundtrack also during your civil ceremony. Valid only if the civil ceremony and

 

the reception are at the same venue.
Religious Ceremony. Soundtrack also during your religious ceremony. Valid only if the church and the location are less than 10 km apart.
Let's dance. We will teach you a choreography that you and your partner will do as the first dance during the reception. We'll choose the songs together and make a medley that will amaze every guest! (An afternoon of lessons at your home is included, plus the video of the rehearsals that will allow you to practice it on your own). € 300.00
Musician. For musical entertainment truly exclusive, we can be accompanied by musicians. Starting from € 300.00
For more information about our extra services, CLICK HERE
To recap...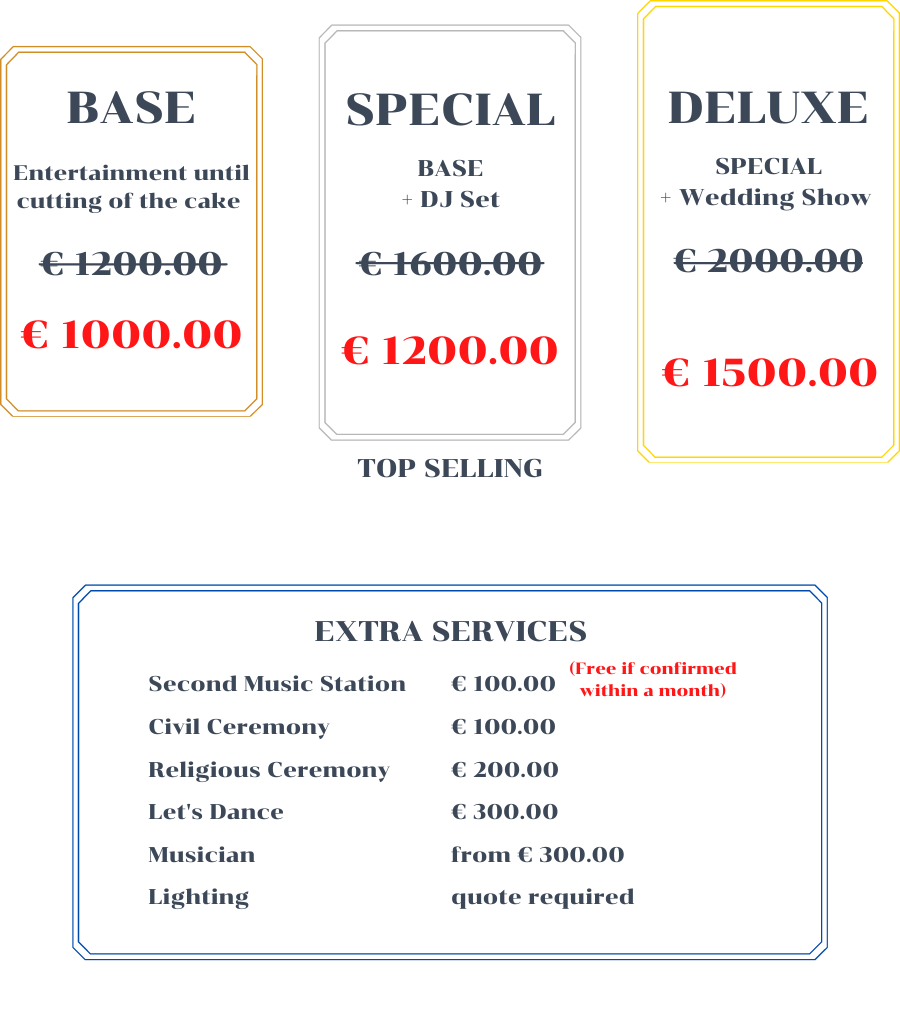 ---
Lock in your date, before some other couple does! 😉
CALL US NOW on
+39 348 9133421
(also whatsapp)
or write to us at